December 20, 2021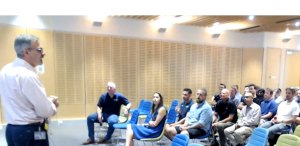 The Indian Ocean Marine Research Centre (IOMRC) at UWA recently hosted a celebration event for the five-year ARC Industrial Transformation Research Hub for Offshore Floating Facilities (OFFshore Hub). Industry partners, academics and colleagues from across the university attended, with Director Christophe Gaudin congratulating everyone for having made the OFFshore Hub a resounding success.  Christophe spoke of the significant contributions made by the OFFshore Hub, the successful project outcomes that will continue to benefit industry, and celebrated the contributions made by the numerous PhD graduates who are now working across industry and academia.
Former Director Phil Watson, now Director of the recently launched ARC Industrial Transformation Research Hub for Transforming energy Infrastructure through Digital Engineering (TIDE), was in attendance.  "I would like to thank Christophe for his strong leadership of the program through to its conclusion" he said, adding "This excellent group of academics and students should look back with pride at the impactful research outcomes they have delivered, and at the strong industry partnerships they forged".
Printed copies of the 'hot of the press' OFFshore Hub Research Compendium was unveiled – providing easy access to the contributions made by this significant research program.  A key component of the Impact, Engagement and Legacy (IEL) road map, the compendium will be available online on the soon to be launched legacy website. Also available will be a series of easy-to-use Guidelines based on OFFshore Hub research which are directed at practitioners; numerous online implementations of OFFshore Hub research tools (web-apps); and links to videos and content relating to master classes delivered as part of the IEL road map. Although the OFFshore Hub has come to an end, the legacy website represents an enduring repository for the high impact outcomes of the program.
In concluding, Christophe reflected on the successes of the OFFshore Hub – highlighting the scientific breakthroughs across the five multi-disciplinary project streams, the strong relationships formed and ongoing collaboration between our industry partners and academia, the new experimental capabilities developed as part of the program – including the Coastal and Offshore Engineering Lab (COEL), the practices and design implemented by our industry partners throughout its tenure, and the numerous training opportunities made available to members throughout.
Well done to everyone involved!