August 19, 2016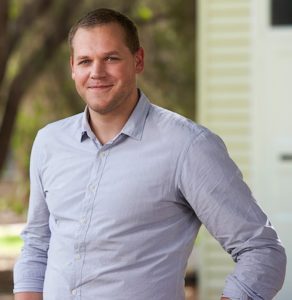 Dr Scott Draper is a Senior Lecturer in the School of Civil, Environmental and Mining Engineering at UWA and one of the Chief Investigators in the OFFshore ITRH wave-structure interaction project stream. On Thursday August 18th he was announced as the winner of the Woodside Early Career Scientist of the Year at the 2016 WA
Premier's Awards.
Dr Draper is known internationally for his research in offshore fluid mechanics. He has developed models to optimise the configuration of offshore wind and tidal turbines for renewable energy, predict seabed scour and estimate the stability of offshore structures in extreme wave conditions. His research on marine renewable energy provided the first accurate assessment of marine renewable energy resources in the UK. Across all fields of offshore fluid mechanics, Dr Draper has published more than 50 peer-reviewed papers, has worked on multiple Australian Research Council projects and has supervised award-winning PhD and Master students.
Further information about the award scheme and a list of the 2016 winners is available here.