October 5, 2016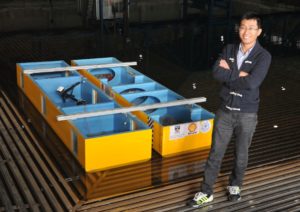 The results of the 2017 UWA Research Collaboration Awards have been announced. A total of 117 highly competitive applications were received, requesting a total of $3,004,478 in research funds.
UWA has awarded a total of $824,093 in funding across 38 projects. These projects will expand the University's research collaborations, both nationally and internationally.
A team lead by Chief Investigator Dr @WenhuaZhao, together with Prof @DaveWhiteUWA, Dr Scott Draper, Dr Ian Milne and Dr Hugh Wolagamot of the @OFFshoreHub were one of the award winners. These funds were awarded for a project entitled "Fluid resonance in the gap between two side-by-
side offshore floating structures with square bilges" and involves collaboration between The University of Western Australia, The University of Oxford, and Shanghai Jiao Tong University.
Many congratulations to the team.
Further details of the Research Collaboration Award scheme are available here.