November 17, 2020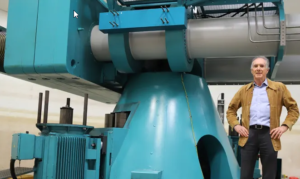 The Western Australian Science Hall of Fame was established in 2007 to recognise exceptional lifelong contributions from Western Australians to science, technology, engineering or mathematics (STEM).  Inductees are announced at the annual Premier's Science Awards presentations and this year OFFshore ITRH member Mark Randolph was inducted for his contributions as an internationally-recognised geotechnical engineer and Professor of Civil Engineering at UWA.
Criteria for this prestigious and competitive award include:
having undertaken a substantial portion of their work in Western Australia;
having a substantial track record as a scientist;
being internationally renowned in their field;
having been instrumental in developing a school of thought and/or policy in WA;
being engaged in outreach;
having been influential in the mentorship of others through developing the careers of STEM practitioners;
and being a member of a learned academy or being of similar stature.
Throughout his career, Mark has worked across academia and industry to solve complex engineering challenges.  Commencing at UWA in 1986, Mark has helped to build WA's international reputation as a hub for excellence in geotechnical engineering, active in a global community looking for new solutions in the field.
Crucial to this was the establishment of the Australian Research Council (ARC) Centre for Offshore Foundation Systems (COFS) in 1997, which housed the first centrifuge in the southern hemisphere at the time and enabled testing relevant to what was seen as a "growing offshore industry".
Driven by the desire to solve problems and take on technical challenges, Mark will continue to focus on mentoring students and tackling new issues, such as looking at the development of offshore renewables.
Congratulations Mark!