June 19, 2019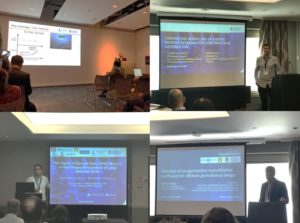 It's that time of year again when members of the OFFshore ITRH head off to present their current research to an international audience at the  annual conference of Ocean, Offshore and Arctic Engineering (OMAE).  This year's conference marks its 38th anniversary and was held at the Scottish Event Campus (SEC) in Glasgow, Scotland from the 9th to 14th of June.
For the past 38 years OMAE has provided an international forum for researchers, engineers, technicians and students from both scientific and industrial communities with the opportunity to present advances in technology and its application in industry.  It also allows for global participants to exchange ideas and promote collaboration across ocean, offshore and arctic engineering.
Offshore ITRH members Rasoul Hejazi, Joe Tom, Conleth O'Loughlin, Lifen Chen and David White all presented at the conference, while behind the scenes Wenhua Zhao acted as session organizer for the Offshore Technology segment.
The annual conference is organized by the American Society of Mechanical Engineers (ASME).