February 25, 2020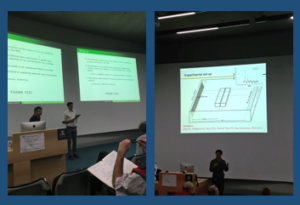 OFFshore ITRH members Wenhua Zhao, Hugh Wolgamot and David Skene recently attended KOZWaves 2020 at the University of Melbourne.  The conference spanned three days and provided a forum for contemporary research on wave science, promoting interdisciplinary collaborations between Australasian wave scientists and international researchers.   A broad range of topics, covering theoretical and experimental aspects of wave propagation, were discussed in technical sessions and by keynote lectures.
All three Hub members presented at the conference:  Wenhua, as an invited speaker, spoke on Large run-up due to tertiary wave-structure interactions in random seas, Hugh on Experimental observation of rainbow trapping in water waves and David on the causality and predictability of surface gravity waves with applications for offshore structures.
The well attended conference focuses on advancing mathematical, numerical and experimental techniques across the different branches of wave science, including acoustics, applied mathematics, ecology, elasticity, electromagnetics, gravitation, optics, seismology, and water waves among others.